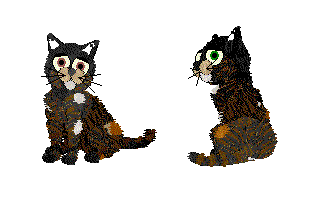 Changing Furfiles on Pet Files
This is the updated part of the "More Advanced Pet And Baby Files Editing", updated to explain more about how to give textures to pets. If you need the example pet etc, then download that file instead, you'll see it further down this page as having been updated 20 June 2003.

More Advanced Pet And Baby Files Editing (Updated 20 June 2003)
Includes examples
Advanced Pet And Baby File Editing (Jan 2003)
Pet Editing -- Tabby stripes.
Includes example pets etc.
Extracting Petz 5 pictures from Pet files
Getting stubborn Runaways home
(works for Petz 3, 4 and 5)

Note 1: If you play with a pet in Petz 5 you can not play with it in Petz 4 or 3 again. Petz 5 puts extra data into a petfile, and we would need to alter checksums in order to even try removing that. Soon we may have a tool to do precisely that, and then maybe there will be more "corruptions" that we can fix. But by hand, for now, the only thing that can we can do is to "clone" your pet from the data within it, either directly into another adopted pet via LNZPro or into a breedfile and re-adopt it as a puppy or kitten from the Petz 3 or Petz 4 Adoption centre. It will lose its memory and history, but the body will be your pet's. You can even pop your original pet's personality/genetics into the new petfile, although out of consideration for the new pet I'd be inclined to do this in a copy of the new pet. And no, I haven't got a "howto" up on how to do this; it's complicated "surgery" and I've still got to find a way of explaining it.
Meanwhile click here for a pictorial partial breakdown of the structure of a .petfile.
Note 2: Petz 3 and 4 petz can be swapped between the two games.
Petz 3 and 4 petz can be opened in Petz 5, but Petz 5 petz cannot be opened in Petz 3 or 4.
Petz II petz can be imported into later games, but their petfiles can never be opened or imported into Petz II.
Note 3: Petz II petz do not have the same editable .lnz sections as the later games.


Breedfile editing -- Main tutorials
~~~~~~~~~~~~~~~~~~~~~~~~~~~~~
go down to "Breedfile editing -- Breedz bits and pieces"
for individual "howto"s on items such as ears, tails, etc.
Go to "Breedfile editing -- Special Info"
for my 2nd-gen status report/tips and stuff on variations, moving ballz around, and the ID number.

Absolute Total Easy-Peasy Pet To Breed,
Honest, It Doesn't Come Easier, Trust Me -- I'm A Hexer! October 2005

Ultra easy Pet to breed "howto" Updated Aug 2004


It tells you how to take a pet and make a breed or litter from it using my external .lnz method; also it gives info on how to make your pet-based breed non-overwriting.
For those who want to make their own easy-edit breedz, here is a precursor to my easy-edit packages:
See your petz at the Adoption Centre while you edit
or at least, almost while you edit. Keep the game running, take a pet out of the AC, edit the .lnz "on the fly" and take another pet out to compare -- this method is easy quick, and less prone to corruptions than using Resource Hacker!
Hex Painting to make litterz or overwriting breedz
Hexing Petz II, 3, 4 and 5 Breedz -- Part 1
Hexing Petz II, 3, 4 and 5 Breedz -- Part 2
Hexing Petz II, 3, 4 and 5 Breedz -- Part 3
Advanced hexing of Petz breedz
Updated Apr 2003. Originally for Petz 2, 3, 4; works for Petz 5 also.

Breed editing in Catz 1
For Windows and Mac users, updated and including a colour chart in bitmap form.
Breed editing in Dogz 1
For Windows, basically. The .LNZ information is the same for the Mac version of the game.
How to easily make your own overwriting versions of any P3-5 breed
Converting Petz breedz from one version to another
This has been updated somewhat; it includes converting Petz 3 breedz from English to International, also converting to petz 5. It attempts to cover converting back and forward between all versions of the Petz games. Note that, since this tutorial was written, Resource Hacker became usable and it swept the newer hexing community by storm. The trouble with this is that, if you are trying to convert a ResHacked breed, it's no longer so simple to do it in a hex editor, because Resource Hacker moves things around inside the file when it compiles and saves. If the ones you want to convert have been "ResHacked", then your best bet is either to copy out the .lnz sections and any bitmaps, and make an overwriting breed using my External-LNZ breedz, or to get ResHacker yourself and become familiar with its use. I do not do Resource Hacker tutorials, although I do have hints on odd things such as how to insert bitmaps with it.
Converting Petz 4 breedz to Petz 5
NOTE: With LNZPro 3.2 or later, you no longer need to convert breedz between Petz 3, 3 Non-english, 4, and 5. Just open your breed in LNZPro, choose "Convert to Unibreed" from the File menu, and follow the instructions.
Swapping behaviour of breedz.
This tells you how to change the personality (or attitude) of one breed for that of another. It also talks about changing sounds for sound-stripped breedfiles. It works for all versions of the game, and for dogz breedz as well as catz. It includes an example cat breed for Petz 3, 4 and 5; the Orange Shorthair with a choice of personalities. For instance, the picture below shows the OSH breed with Alley Attifude. If you want to change the personality of a Poodle for, say, that of a Labrador, the same method can be used.
NOTE Since LNZPro has got better and better, you can now swap the SCP (attitude) files with utmost simplicity. Open the breedfile which has the SCP that you want. Choose Edit, "Save to file". Now open the breedfile in which you wish to replace the SCP. Choose Edit, "Replace from file". Save. Ta-da! Changed SCP.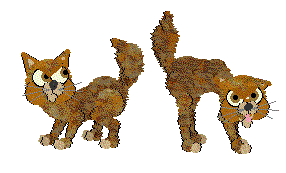 How to make your breed show up separately
Changing the default pet name at the AC
How to fix sleepy and alley sicknesses in breedz
Hexing Mice (and roaches) in your game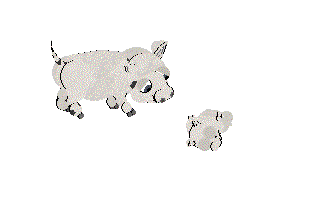 Making Petz 5 Pigz adoptable
Also making it so that all pigz from previous versions of the game can be imported.
Petz 5 Breedable Pigz
Read the included instructions carefully to get your pigz and pigz mixes to breed.
Petz 3 Breedable Pigz
Pig family to go with P3/P4 Breedable Pigz file
Bunny family to go with P3/P4 Breedable Bunnyz file
Petz 3 breedable Bunnies
Petz 3 breedable Bunnies (international ver)
Petz 4 Breedable bunnies
Petz 4 breedable Pigz

Breedfile editing -- Special Info
~~~~~~~~~~~~~~~~~~~~~~~~~~~~~
Variations
This is my "Howto" on Variations, updated to explain in greater depth about hooking up patches with ball-colours etc. 27 May 2003.
Still more on Variations. And how to use [Omissions].
Please read this if you are having Variation problems
Making a variation be always the gender you want Updated 10 april 2004
Making furfile variations and stretching noses and ears
Blazes, Catz ear problems, Furfile explanations, Variations

Moving Add Ballz around
x, y, z positions -- how to figure it out
Paint Ball xyz oddities, or "Why is my pet covered in black blobs"

Talk about ID clashing

Doing sounds for breedz

Status report on 2nd-gen research Updated lotsa new stuff 11 April 2004
Another way to deal with 2nd-gen dogz nose problems
Some 2nd-gen Add Ball and Linez problem fixes
Updated Apr 2003 -- some 2nd-generation problems
with ball-colours and non-joined ballz, scrambled chickenz heads. Also fixing Whiskers.

Breedfile editing -- Bits and pieces
~~~~~~~~~~~~~~~~~~~~~~~~~~~~~
How to add stuff from clothing items to your breed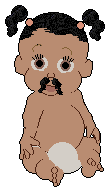 How to make Add Ball tattoos

Tails lengthening and whiskers removing
Teddybear ears on catz
The Wizard.bmp problem
Alleycat eyes on Dogz
My "flighty-dane" type wingz -- if you're having problems
Dogz legs and Catz ears
Making your baby stage look different from the adult
Make your own Mystery-moticon petz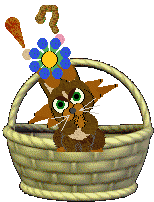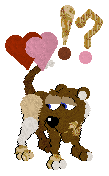 Make your own emoticon petz with variations
Putting various different drop tails on catz.
Shows four different drop-tail types; Includes sample breed. Yes, it really is a cat. I used my "102" breed but with some differences.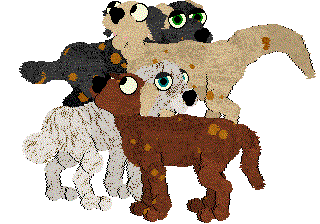 Change and expand drop-tails -- Dogz and Catz
Giving your petz' eyes a texture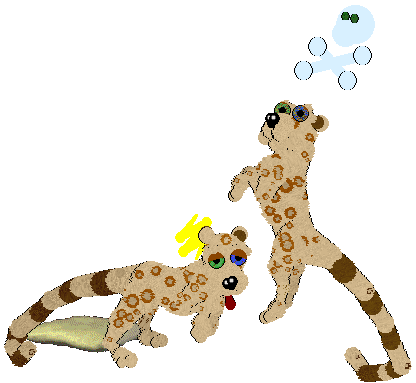 Slant legz on Dogz and round ears on Catz
I had this one up for a while, on the Infobits page, but people were having difficulty finding it there. So here it is now :-)
Unicorn horns, talons, spikes...
How to add lots of different spikes to your breed, including add-ons all the way down the spine, to the toes, and to the head. Includes four different example breedz.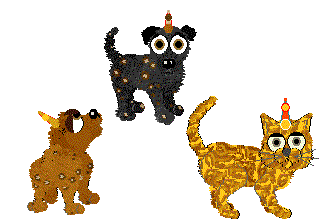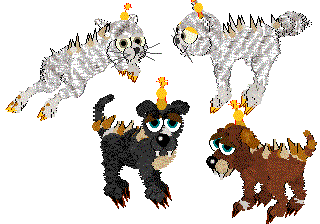 Making a Baby or Pet with missing limbs.
and before anyone sends me hate-mail for this one, please read the readme. This tutorial is intended as a service for people who need to relate to virtual playmates who do not have the "body perfect".
Bunny ears on catz and dogz.
Shows three examples of how to attach bunny ears, and there's a set of fangs on the Scottie too. Includes example breedz.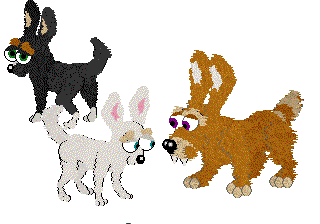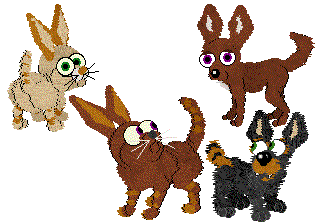 Bunny ears on a Great Dane.
Yes, I still get asked about ears!
Ears and tails
Yes, ears again on dogz -- this time, how to make a pup's ears different from an adult's -- and how to make up-and-over tails. Includes example breeds.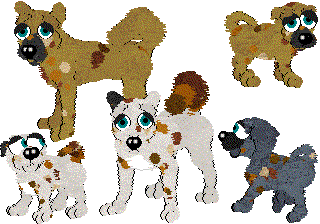 Wings on Breedz
How to put wings on your catz or dogz breed. Includes example breedz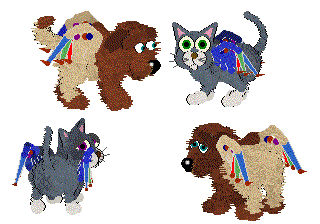 Aargh, yet more ear-changing, on a Dane.
Chihuahua ears again. Includes example breed.
Please, people, no more ears -- I'll go mad if I hear another "how do I put x ears on a y?" question. Just read the "howtos" and try to understand; then you'll be able to put any type of ear on any other breed.




Even more ear-changing, and whiskers on Dogz
It's Chihuahua ears this time. Includes example breed.
Details on how to make drop tails.
Includes example breed.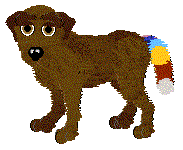 Feathering tails, legs, necks, chests, bellies etc on breedz updated April 30th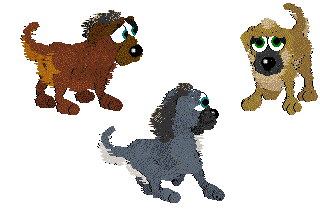 Yet another ear-change on Dogz
this time up-pointing ears on a Lab. Includes example breed
Putting floppy ears on a Dane
Includes example breed
Putting one flop ear on a Dane
Includes example breed
Putting flop ears on Catz
Includes example breed
Making Leopard spots on Catz
Includes example pets
Making Leopard spots on Dogz
Includes example pets
Making Leopard spots speedily
(but with no texture). Includes example breed
FAQ -- how to make minis
FAQ -- deleting bytes (for hex editor methods)
FAQ -- spots on breedz
FAQ -- fuzzy feet (etc)
FAQs -- surprise chicken blobs
FAQ -- pigz etc (why babies so small)
FAQ -- changing nose colour
FAQ -- changing default AC clothes

Older tutorials and FAQs
~~~~~~~~~~~~~~~~~~~~~~~~~~~~~
All have been updated and improved at least slightly now. Look in the relevant sections above for the ones that you wish to see.

.