Welcome to Sugarmice!
Thank you for visiting Sugarmice, a Petz 3+ site created and maintained by Becca! For now, Sugarmice operates exclusively as a crew site (navigation's on the top right), but you may find other goodies here in the future.
If you're looking for adoptions, you may wish to try my PUGS shop, my auctions at the Flea Market, or my adoption/breeding service threads at Whiskerwick!
Sugarmice is EXTREMELY proud to be hosted by the lovely Arie at Homebody!
homebody.eu
Updates
June 2021: Most of the Bred Dogz crew pages have now been updated. More updates to come!

May 2021: We're up and running again after a ten-year hiatus! Yay!

2010 - 2012: Sugarmice was last seen in the wild...

Favourite Links
Here's a small collection of Petz sites for you to peruse at your leisure! Some are certainly more active than others, but all are well worth the visit. If you would like your site to be included in the list, please email me!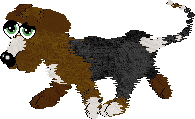 About Sugarmice
Sugarmice first opened in 2010, and has had only previous version (the delightful original layout was designed by Catherine).
Why Sugarmice? Well, the site takes its name from a twee 1950s children's book I loved as a kid. 'The Kittie Poosies' stars an enterprising single mother cat, Mama Pudditat, who makes and sells sugar mice as a means to pay her bills. No really.
The current version of Sugarmice is the first with functioning crew pages. These pages by no means represent all of the Petz I own and cherish. There are many Petz not listed which paved the way for my current breeding crew (those I'm most confident breeding with), for which I have to thank Amanda, Cheaco, Delighy, Mika, Kristina, Arie, Pinto, Salem, and MANY other incredible breeders. A 'hall of fame' type page for some of these treasured Petz is on the to-do list!
About Becca
If you're looking for some dirt on yours truly: I'm Becca, she/her, early 30s. I first discovered Petz in 1999 or 2000, and 'officially' joined the community (i.e. the RKC forum) in 2010. For a brief time before that, however, baby me excitedly bred guest litters for Saddam @ Mist. My favourite Petzy breeds are the Maine Coon (!), Sheepdog, B+W Shorthair, and Poodle!
I live in the north of England and am a literature graduate/self-employed disaster/aspiring illustrator (who literally never practises drawing, whoops). I have two daft cats, Yanto and Luna. I love all varieties of tea (vanilla rooibos is my fave), felines, books, spring-flowering fruit trees, pastries, noodles, and Final Fantasy.