Pose Show Info
All my pose shows and non-pose shows/contests have relocated to Whiskerwick due to lack of interest in on-site shows, but this page with some basic showing information will remain up for general reference. If you need help on how to pose a pet or how to judge a pose, I recommend taking a look at MLCK's posing guide!
Jump to...
Common rules - Recognizing flipped cat poses - Winners archive

- Standard shows take 10 entries, with 2 entries per person.
- EBW ("everybody wins") shows take 5 entries, with 1 entry per person.
- The entrants should be age 100, and pose facing to the right.
- Images must be clear, unedited PNG or GIF files.
- No background, clothes, toys or other petz can be in the picture.
Pointage system
BIS: 5 points
1st: 4 points
2nd: 3 points
3rd: 2 points
HM: 1 point
Titles
Reserved Champion (RC): 5 points
Champion (Ch): 10 points
Grand Champion (GCh): 15 points
Master Grand Champion (MGCh): 20 points
Supreme Grand Champion (SGCh): 30 points

How to recognize flipped cat poses
Flipping the picture is a form of image editing and is therefore generally not allowed it the show ring. People may try to flip a pet's picture to enter a left-facing pose into a show that only accepts right-facing poses, and vice versa. Being able to recognize flipped poses is a useful skill to have for anyone hosting/judging a catz pose show.
The top two images are unedited poses, one facing to the right (the direction most commonly used) and one facing to the left. On the bottom are the same two pictures, but flipped.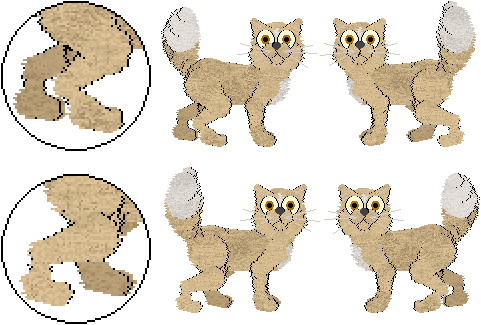 The key difference is in the hind legs. When posing, catz always put their left hind paw a step further backwards than their right. There are no exceptions, this is simply what the posing animation does. If it looks like the right hind paw is put backwards instead, it means the image has been tampered with.
The outlines sitting in unusual places - that is, on the opposite side of where they would naturally be - is often a dead giveaway that the picture was flipped. For example, consider the tail and hip outlines on the cat above. But this rule of thumb cannot always be applied as the outlines can be hard to see on darker petz, and the position of the outlines can be changed through hexing. Neither of those things would disqualify a pet from showing.

All past winners of pose shows and other contests held on Litterz Factory are included in my show award archives.