Download Toys
Some new toys to keep your petz entertained and your home decked out! Please give credit where credit is due and do not redistribute any of these files. If you would like to convert any items made by me to other game versions, please feel free - but do send me a copy to share on this page! You will need Winzip or a similar program to open most of these.

Paintings
If you've ever tried to put your petz pictures in any of the in-game frames, you'll have noticed they get resized and you can barely see who's in the picture. Here's the solution: a 25-pack of pretty images sized to fit the frames perfectly! To use these, simply right-click a picture frame in-game, and browse to where you've saved the images to select the one of your choice.


Download for Petz 3/4/5

Mimi's Peppermint Ball
A seasonal alternative to the auto-rolling ball, and it jingles as it rolls! This toy was created by Mimi.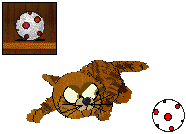 Download for Petz 4