Download templates
Graphic templates for all sorts of petz-related things! As is the nature of templates, they are free to use and edit any way you see fit, but please give credit where credit is due and do not redistribute any of these files. You will need Winzip or a similar program to open most of these. The PSD and XCF files are compatible with most programs that allow you to edit image files with layers, including free software like Gimp and Paint.NET. If you would like to convert any templates made by me for use in other programs, please feel free - but do send me a copy to share on this page!

Show award template
The quick and easy way to create your own custom show awards! Swap out the petz pic and background image for your own, edit the text and colors to suit your needs, and done. Now get out there, and host a show or two!
Download .png /.psd / .xcf / .pdn

Trading card template
Inspired by vintage PC trading cards, as seen on Rainflower and many other sites! Comes in common, uncommon and rare varieties. Both cards below are free to collect.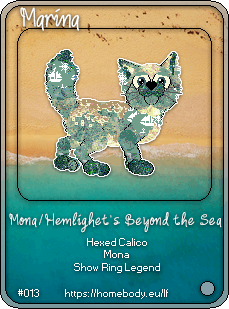 Photo frame stamp templates
Templates to make your own collectible stamps that look like the five original photo frames! Each frame comes in the original crispy texture as well as a line-art version that is a little easier to recolor and otherwise edit.