Dog Singles
Singles! They're just like litters, but without the siblings. Some were bred as a fluke, some are leftovers, some were specifically bred when I wasn't in the mood to do a whole litter. All require a (small) application, unless stated otherwise. Enough talking, scroll down already!


Cheerio
Who doesn't love silly dachie mixies?!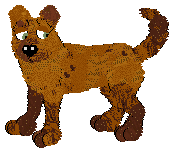 Suave
Orange is always good! Requires Iola's Smooth Collie file (non-OW), which will be sent along with the pet.