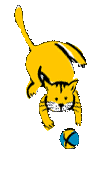 Dogz are the first pets to live on a computer, giving you the joys of owning a dog
without needing a pooper scooper! Dogz live on your desktop where they can scamper
across applications, play games like keep away, fetch and chase, or nap in the corner
of your screen while you're working.



Adoption Kits allow you to play with five different
little puppy-Dogz before deciding which one to adopt.

If you haven't Adopted a Dogz - go to the Adopt Now area where you
can find links to demos and download a Dogz Demo fooler for the PC or Mac!

If you've already Adopted a Dogz and are now looking for some
things to do with Dogz, look around here for more dogz stuff
and check out Flyinskull's site and Minibyte's Archive too.


Copyright © 1995 PF. Magic, Inc.