Cliques
What could be more fun than decorating your homepage or signature with tiny graphics signifying a niche interest?! To join any of these cliques, just take the one you like, upload it to an image host (please, no direct linking!), and place it on your website or in your signature linking back to LF. Enjoy!

Days of the week
At the end of the week, many can be heard sighing, "thank god it's Friday!" because it's their favourite day of the week, it's almost weekend, yay! But what about people who have to work on weekends? Different people, different favourite days! Whether it's because that's when you get your paycheck, or when your favourite show is on, or when you go to your sports club - you love that one day. Show it off!













Petz fur colours
If you're into breeding petz, surely you'll have noticed the lovely colour mutations that sometimes appear in the offspring. In total, there are ten different colours naturally bred petz can have. Fancy, huh? And they're all so pretty, too. Is there one you think is prettier or more attractive than the rest? Join this clique!










Abuse hurts!
This one isn't exactly a clique, but some of the oldies in the petz community might remember seeing this image on nearly every site there was - I sure do! Both for nostalgia's sake and because animal abuse is a terrible thing, I thought it would be nice to reintroduce that poor, sad chihuahua that used to be all over the place. Though I did edit the image to be transparant, I otherwise do not take any credit for the image or the idea. Knowledge as to who originally created this image seems to have been lost in the sands of time.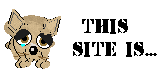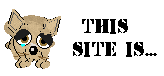 Petz Squibies
Squiby adoptables level up and grow as they collect clicks - perfect for spicing up your forum signature or website homepage! You can check out some examples below. Each pet would go through three stages: infant, kitten, and adult. Unfortunately, as Squiby has closed down, these are no longer available. Sorry!