Download textures
For your hexing pleasure: external textures to work into any breeds, clothes or petz you hex. Please give credit where credit is due and do not redistribute any of these files. You will need Winzip or a similar program to open most of these.

This pack contains 52 different textures by Kitsune that make the untexturable colours look nice and shiny! The petz showing some off the textures were hexed by Bella @ Gizmo, Kitsune, Nawmi, and Michy.

Download for Petz 3/4/5

Petz 5 cat textures
These are the furfiles the game uses for the Honey Bear, Egyptian Mau, Scottish Fold and Desert Lynx, edited by Pinto for use as external textures.

Download for Petz 3/4/5

Clothing textures
This pack contains 51 textures used in the game's clothing, to be used as external textures. Some of these may not be compatible with Petz 5 due to their dimensions. Extracted by Sharebear.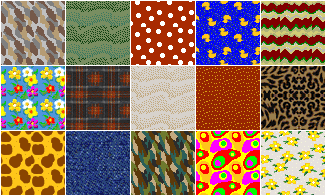 Download for Petz 3/4/5